Please consider joining this action. CCI is leading the fight to save Iowa from becoming wall to wall CAFOs. Follow CCI on Facebook

###
We're ready to stand with you to build the movement for clean water, a factory farm moratorium, and local control in the New Year!
Holiday Card Blitz!
Rumor has it that Jeff Hansen – owner of Iowa Select, Iowa's largest hog corporation – has even more factory farms on his Christmas list.
Here's an easy way to stand with fellow Iowans fighting to stop 20 (!!!) proposed Iowa Select hog factories. (Like the Hardin County members who packed their supervisors meeting yesterday, successfully getting them to delay their decision two weeks.)
Send an extra holiday card to tell Jeff that all you want in the New Year is for him to stop building factory farms!
Mail to: Jeff & Debra Hansen, 1469 Glen Oaks Drive, West Des Moines, IA 50265.
Two of our Ames members made the "postcard blitz" popular during the #NoDAPL fight, and we loved the energy it brought to the movement. Check out our Facebook event. Post a picture of the card you are sending and invite your friends to do the same here. 
---
Your online actions work!
DNR drops bad proposal to weaken testing of E.Coli in our water
Over 700 Iowans — including at least 216 CCI Action members — submitted comments opposing the Department of Natural Resources' sneaky attempts to weaken testing for E.coli bacteria (which largely comes from factory farm manure) in our precious waterways. This change would've made water impairments harder to track, and put our health and safety at risk. Shout out to the Iowa Environmental Council for sounding the alarm in September.
---
Your call for a factory farm moratorium and local control is gaining steam!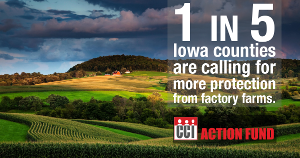 21 Iowa counties have called for stronger rules for factory farms — whether by passing resolutions or writing letters to the state pushing for a moratorium, local control, or strengthening the Master Matrix permitting process.
Over 1,500 members weighed in to say you want a stronger Master Matrix. The EPC is making a recommendation to the legislature, and your energy helped force the public debate in the media.
Farm News — a newspaper which gets delivered to thousands of farmers and rural families in North Central Iowa — is the latest to weigh in for stronger local control. In their editorial "Hog confinements raise concerns: Webster County Supervisors raise valuable scrutiny", they say:
"More broadly, we believe the Legislature should consider giving local governments more discretion in this process. City and county officials are in a better position than DNR bureaucrats to know how a confinement project will impact their communities."
"…perhaps lawmakers should do what county supervisor boards, rural residents, environmental groups and others have asked. If lawmakers can't provide more local control, then they should pass a moratorium on new confinements." 
Iowa Citizens for Community Improvement
2001 Forest Ave., Des Moines, 50311-3229
515-282-0484
iowacci.org